The Education Council's Vision is to assure quality educational organizations and programs contribute to an improved quality of community life resulting in a recognition that the greater Estero area is recognized as a destination where people want to live, worship, conduct business and educate their children.
None at this time.
We don't have any articles on this topic at the moment.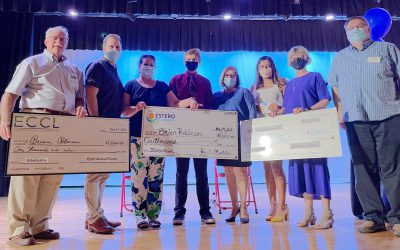 2021 ECCL Scholarship AwardeesGroup photo:  Left to right:  Mike Wasson, Blake Chapman, Pamela Mueller, recipient Brian Robinson, Gail Langner, recipient Mary Sue Burun, Vicki Risko and Mark Novitski. ECCL, Estero Historical Society, and Estero Chamber of Commerce...
Find Your Representatives
Contact information for local, state and national legislators.
Volunteer
The ECCL is made up entirely of volunteer residents, businesspeople, and you!
Support
Your contributions protect the voice of Estero residents and enable action before it's too late!