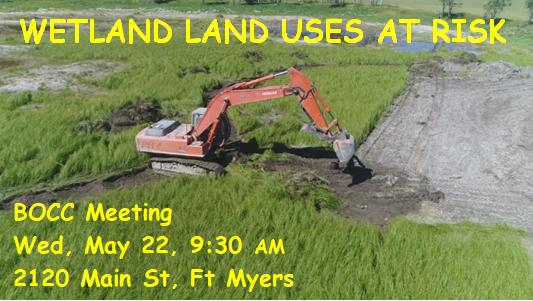 The Lee County Board of Commissioners will be voting on Wednesday to advance a comprehensive plan amendment that will incentivize and encourage the loss of wetlands and wetland functions in Lee County.
We are asking that you attend the meeting and speak before the board, which is the most impactful action you can take.

Board of County Commissioners Meeting, Wednesday, May 22, 9:30 AM
Lee County Board Chambers at 2120 Main St., Ft. Myers, Florida
You can also contact our county commissioners to express your concern and urge them NOT to transmit the amendment using the form below.
The Sanibel-Captiva Conservation Foundation (SCCF) has written this letter explaining why this amendment is misguided. Use this information to complete the email in the form below:
Personalized letters have a significantly higher impact that "pre-written" ones. Please take a second to complete the email before sending.
County Staff Report:
https://drive.google.com/file/d/1a9MVR3xFJWUayscYkqKE7dNCeHurkOX-/view?usp=sharing
District 1  John Manning         239-533-2224   dist1@leegov.com
District 2  Cecil Pendergrass  239-533-2227   dist2@leegov.com
District 3  None at this time
District 4  Brian Hamman 239-533-2226   dist4@leegov.com
District 5  Frank Mann 239-533-2225   dist5@leegov.com