What's at Stake: Yet another new mine in Eastern Lee County which would add more trucks to Corkscrew Road, as well as jeopardize water quality, flooding controls, wildlife habitat and other environmental damage.
Who Decides: The Lee County Zoning Examiner reviews the proposal, and then the County Commissioners approve or disapprove the Examiner's recommendation. The property is outside the Village of Estero, but it impacts Estero residents.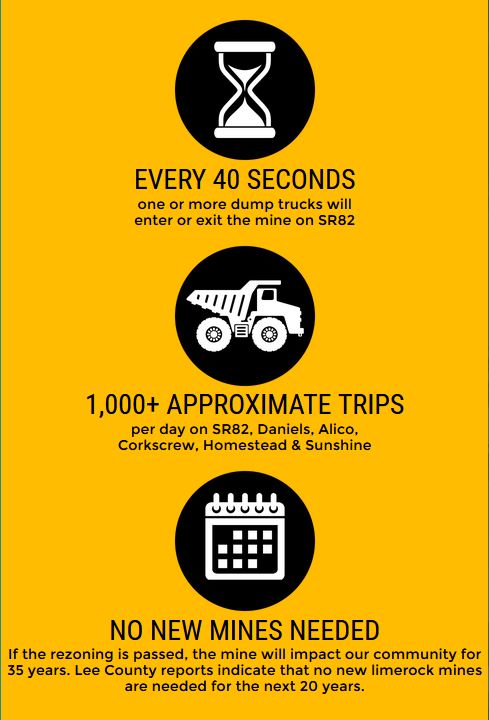 What Should I Do: Speak at the Hearing
When: Tuesday, June 26 at 9:00 am
Where: 1500 Monroe St, Fort Myers
I've never done this before: We can explain how the hearing works, how and when to make your opinion known, and provide background information on the project, should you need it.
Why is appearing at this meeting important?
You cannot speak before the Commissioners when they decide on this mine unless you first appear before the Zoning Examiner at this hearing.
Sign Up here if you'll be at the hearing – we'll be in touch with details.
Background:
The rezoning request for this proposed limerock mine is currently going before the Lee County Zoning Examiner starting Tuesday, June 26 at 9 AM downtown and may extend beyond that day.  This mine is proposed to be located just west of the proposed Old Corkscrew Plantation Mine and extend from Corkscrew Rd to S.R. 82 (see map).  This mine is located well OUTSIDE the limits already set up by Lee County for mining.
The Examiner will be hearing testimony as to whether zoning for this 1,803 acre parcel should be changed from agricultural, which the land is currently, to industrial in order for another limerock mine to be operated. The Examiner will then issue a report either recommending adoption or rejection of the applicant's request to rezone. If approved, this will be a HUGE mine operating for many years. It is estimated that hundreds of truck trips per day could be generated.
This proposed project presents significant environmental, hydrological, and transportation concerns to residents in the Corkscrew Road corridor.  Possible flooding downstream in Estero as a result of severe hydrological changes in the Density Reduction/Groundwater Resources area (DR/GR) where this mine is located could result.  In addition, there is a strong possibility that hundreds of additional heavy duty trucks will use Corkscrew Road to access Interstate 75. This will exacerbate an already overloaded Corkscrew Road congestion and safety problem.  Lee County's own Land Development Code (Ch. 34) states "Mining operations, by their very nature, are INCOMPATIBLE with most other uses." Mining brings with it blasting, noise, trucks, dust, and more.
The Conservancy of Southwest Florida has more information on the impact of mining to our environment at NoMineOn82.com.
The Examiner's recommendation will either be accepted or rejected by our five commissioners sitting on the Lee County Board of County Commissioners during a later meeting. In order for one to express an objection to or support of this requested zoning change before the commissioners, one MUST first speak before the Zoning Examiner. If you'd like to be heard, please plan to be at the Zoning Examiner Hearing on June 26 at 1500 Monroe St, Fort Myers at 9 AM.