For over a decade Estero's Design Review Committee advised the County about the design and appearance of the detailed plans for the property that are available after Zoning has been approved and detailed plans are complete. This is called the   Development Order approval process.
Estero is the only community on the southwest Florida coast to perform this function with such transparency and public input.
Shortly after it was created the Village Council established the Design Review Board (DAB) and gave them the authority of make final decisions on Development Orders after at least two Hearings on each project.
On Tuesday, January 10th at 5:30 p.m. the Design Review Board (DRB) 
will meet at the Estero Village Hall.
You can review the Agenda for this meeting and all of the backup material that it contains by clicking on this link. 
As you will see some of the agenda items are minor while others are more controversial.
The two developments where residents of neighboring communities have expressed concerns are:
The developers of the property at Highland Oaks Drive at University Highlands are seeking FINAL APPROVAL of the this application.
The developers of Aldi's at Estero Town Center are back for a second Preliminary Information Meeting (PIM) to review the building's architectural elements and landscaping, and a deviation from connection separation requirements on US 41.
If you cannot attend the meeting but want to send an email
to the members of the DRB click the following link, compose your note
and send it following the directions provided:
     Email *
Dear DRB Member,
I am unable to attend Tuesday's meeting but would like to express my concern about…)
Aldi's at Estero Town Center
In October the developer of this project made a Preliminary Information Meeting (PIM) presentation to the DRB.
The developer's application provides the details of the proposed Aldi's store located in front of The Vines community just north of the Wal-Mart store.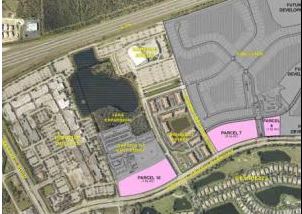 Highland Oaks Drive at University Highlands
In December the developer of this property made a Preliminary Information Meeting (PIM) presentation on this development. Now they are back for Final Approval of an Infrastructure Development Order for three commercial outlots along Ben Hill Griffin across the road from the Grandezza community.
Approval would allow the developer to immediately commence site preparation consisting of clearing, filling, and installation of infrastructure and utilities. The principal concern expressed at the December meeting is the failure of the proposal to include perimeter landscaping to shield the cleared land from view along Ben Hill Griffin and from the Grandezza community.
For current details on this project please click this link.
For background on this project review the attachment by clicking on the "Presentation" button   (Presentation).
---
*If the button doesn't work: Send your email to: anderson@estero-fl.gov,prysi@estero-fl.gov,whitehead@estero-fl.gov,jones@estero-fl.gov,odonnell@estero-fl.gov,mcharris@estero-fl.gov,glass@estero-fl.gov,lacis@estero-fl.gov,gibbs@estero-fl.gov
Indicate the subject is regarding the Jan. 10 DRB Meeting
And complete the following:
"Dear DRB Member,
I am unable to attend Tuesday's meeting but would like to express my concern about "