The Lee County Hearing Examiner (HEX) recently denied a request by the Hess Convenient Store, 10351 Corkscrew Road, for a variance in signage.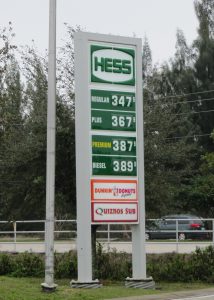 Hess applied for approval of the fee-standing pole sign currently on their property.   The HEX denied the application because this type of sign does not meet the regulations stipulated in the Estero Community Plan.
The pole sign at this site was first permitted in 2000.  The property was under different ownership at that time and it was in compliance with the land development code.
In 2005, the County adopted the Estero community planning regulations, establishing desired architectural, sign and development standards in Estero.  These regulations prohibit free-standing pole signs, internally illuminated box signs and signs exceeding 17 feet in height.
Once Hess took ownership of the property, the sign lost its legal, nonconforming status.
Hess may now redesign the sign and resubmit their application.