In January 2014, MLS records show that twenty-nine (29) single family homes were sold in Estero.  This compares favorably to the twenty (20) sold in January 2013, although down from December's unusually strong sales level of forty-nine (49) homes.
Included in January sales were only 6 sales (or 21%) that were "distressed sales," i.e., short-sale listings or bank owned properties which, in each case, the bank received less than its loan amount.  The six distressed sales are slightly ahead of the 2013 average of four sales per month.
Sales figures are shown in the following table: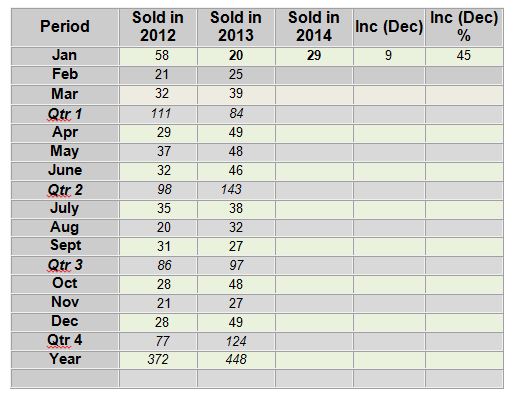 As of January 2014, there were 346 listings of currently active unsold homes in Estero,    compared with 407 listings a year ago, and up from December when only 305 units were in inventory.   The 346 listings include 102 pending sales, which is higher than the 83 unit average of the previous four months.
The 346 inventory represents a 9 months' supply of unsold homes, which is about the same as the previous six months.  It is dramatically improved from January 2013, when there was a 14 month supply.   A 6 months' supply typically indicates a good market.