In January, 2015, the Multiple Listing Service (MLS) recorded thirty-four (34) single family homes sales in Estero. This is up 17% from last January.
In January, three (3) homes, or 9%, were "distressed sales," i.e., short-sale listings or bank owned properties, in which cases the banks received less than their loan amounts. Also, January's inventory of unsold homes includes only twenty-one (21), or 6%, which are expected to be distressed sales. Six (6) percent is the lowest percent since the ECCL began tracking these figures in 2012 when distressed sale percents were consistently in the low to mid teens.
Sales figures for the last three Januarys are shown in the following table: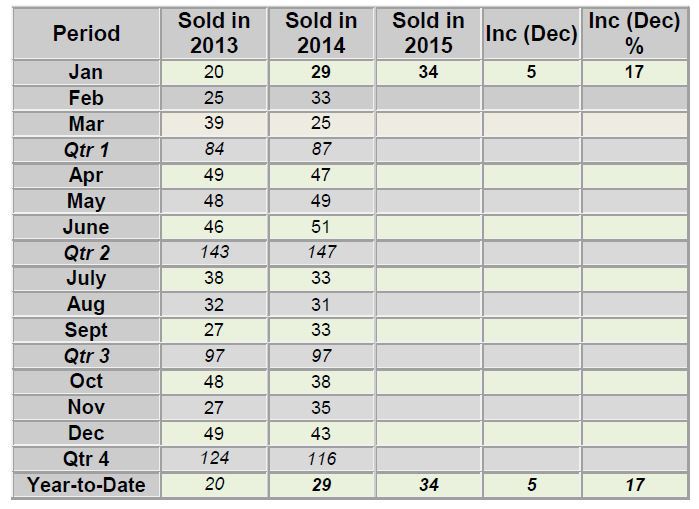 As of January 31, 2015, there were 363 listings of currently active unsold homes, sixty-nine (69) more than at the end of 2014. While a large increase is typical each January when many new homes come on the market, forty (40) of the increase this year is due to the first time inclusion of The Vines, Belle Lago and the Reserve of Estero, which are included in the new Village of Estero. The 363 active listings include eighty-one (81) pending sales, which is consistent the low numbers during the last half of 2014. Low pending sales figures often indicate fewer sales in the next month.
The 363 listings in inventory this January represents 9 months' supply of unsold homes, about the same level as a year ago but less than the 14 months' level two years ago.
Note: Figures include homes in the new Village of Estero (excluding homes in the Estero portion of Pelican Landing, which are not separately shown in the MLS). Also not included are figures for multi-family homes.
Thanks again to Joe Pavich, Sr. of Realty World in Estero for providing the ECCL with the MLS figures for the new Village of Estero.