In December 2013, permits were issued in the Estero Planning Community for seventeen (17) new single family homes.  This represents the fewest permits issued in any month since October 2012.  However, the 448 total of permits for the year 2013 increased by over 30% from 2012, and represents the best year since 2006.
The dollar value of the December permits was $2,294,380.  This was the lowest monthly total in the last twenty-one (21) months, but, for the year, building values were up about 30%.
Lower permit and building values in the last four months are attributable to reduced permitting at Bella Terra, which has received no permits for two consecutive months.  This suggests that Bella Terra, like the Reserve of Estero and Belle Lago, are nearly built-out.
Offsetting those declines is the stable level of permits being issued each month to the Preserve of Estero, just west of Bella Terra, which is being built by Pulte and Lennar.   In the last year and a half, 265 permits have been issued to the Preserve.  Ray Blacksmith, President of Cameratta Properties, developer of the Preserve, recently told the ECCL members that he expects to build 441 units in total, and that turn-over is expected near the end of 2014.
The following table compares 2013 figures with the prior thirteen years.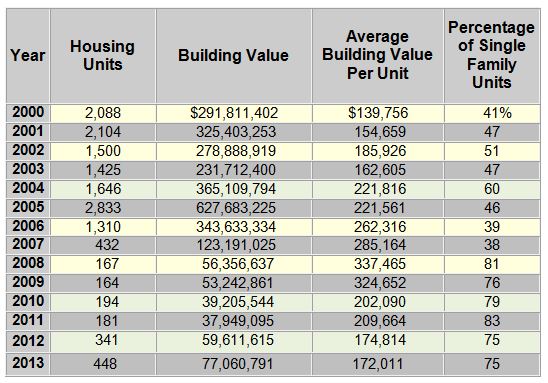 Source:  Lee County Permit Reports for the Estero Planning Community; See http://www.leegov.com/gov/dept/dcd/Reports/Pages/reports.aspx.  Click on the "Select the Report Type" drop down box to select "Planning Communities," and then click on the "Select the Area" drop down box to access "Estero," which displays the "Estero Planning Community"  Residential reports.