In December, 2014, twenty-three (23) new single family home permits, including eight (8) for duplexes, were issued in the Estero Planning Community. The dollar value of the permits was $4,016,276.  The 23 units is a 35% increase from December, 2013 and was the best monthly total since this past July.
In December, eight (8) permits were issued to the Preserve of Corkscrew, east of I-75.  Monthly permit figures for the last two years have been heavily influenced by the number issued to that development.  Since construction began in 2012, over four hundred thirty (430) permits have been issued, out of a projected total of four hundred forty-one (441). About half of all the permits issued in Estero in 2014 were issued to the Preserve.
Also in December, five (5) permits were issued to Estero Place, at Three Oaks and Corkscrew. Ultimately, one hundred (100) new single family homes are expected in Neal Communities' newest Estero development.
The monthly total also included eight (8) duplex units at Villa Palmeras on Three Oaks.
With the Preserve of Estero nearing completion, the number of home permits issued in early 2015 will be largely dependent on continued development of Estero Place and Toll Brothers' Reserve of Estero, on Estero Parkway. In addition, permits are expected for ninety (90) single family homes at Pebble Pointe near Coconut and Three Oaks.
The table below compares the three hundred fifty-one (351) new units permitted in 2014 with the prior fourteen years. The 22% decline from 2013 was caused primarily by the completion of Bella Terra in late 2013.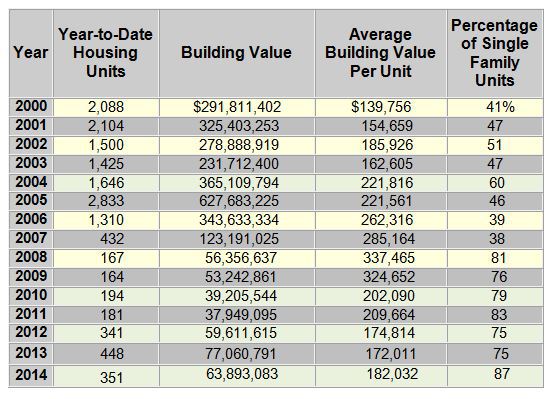 Source:  Lee County Permit Reports for the Estero Planning Community.  Click on the "Select the Report Type" drop down box to select "Planning Communities," and then click on the "Select the Area" drop down box to access "Estero," which displays the "Estero Planning Community"  Residential reports.