Like most Decembers, commercial permits were low this past December, totaling less than $200,000.  For all of 2013, however, the total permit value reached $14.7 million, up 23% over 2012, and represents the best year since 2008.
The most significant investment in 2013 was the $5.0 million Family Health Centers building just north of the Vines on Rt. 41.  Other notable investments included a number of interior remodeling projects at stores in Coconut Point and Miromar Outlet malls of $3.2 million, remodeling of the two Publix buildings of $950,000, and construction on Corkscrew of the new Culvers restaurant of $750,000.
The following table compares 2013 figures with the prior thirteen years.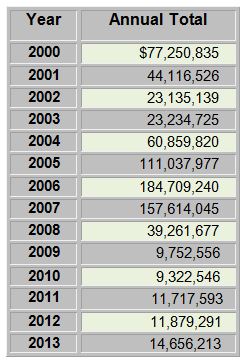 Source:  Lee County Permit Reports for the Estero Planning Community; See http://www.leegov.com/gov/dept/dcd/Reports/Pages/reports.aspx.  Click on the "Select the Report Type" drop down box to select "Planning Communities," and then click on the "Select the Area" drop down box to access "Estero," which  displays the "Estero Planning Community" Commercial reports.
Note: The building values above understate the cost of each residential and commercial building because they exclude the value of the underlying land.