The value of commercial permits in Estero in December, 2014 totaled $2,136,606, including a   permit valued at $ .9 million for the Racetrac station on Rte. 41.
As shown below, the $139 million recorded in 2014 is the best year for commercial investment in Estero since 2007. After excluding $99.4 for Hertz and $13.5 million for Walmart, 2014 commercial investment increased by 80% from 2013.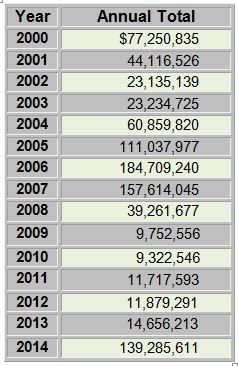 Source:  Lee County Permit Reports for the Estero Planning Community.  Click on the "Select the Report Type" drop down box to select "Planning Communities," and then click on the "Select the Area" drop down box to access "Estero," which  displays the "Estero Planning Community" Commercial reports.
Note: The building values above understate the cost of each residential and commercial building because they exclude the value of the underlying land.