Building Community
Events and News
The Engage Estero provides local event information to help build a stronger sense of community in Estero and surrounding communities.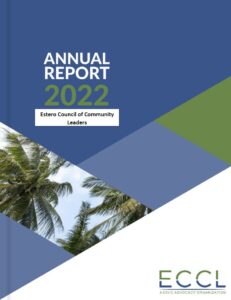 2022 Annual Report2022 was a productive year for The ECCL and the Greater Estero Area. This Annual Report covers the Key Issues Addressed by the organization, Future Developments that are planned, and a Blueprint for Change, including a preview of The ECCL's...
Find Your Representatives
Contact information for local, state and national legislators.
Volunteer
Engage Estero is made up entirely of volunteer residents, businesspeople, and you!
Support
Your contributions protect the voice of Estero residents and enable action before it's too late!